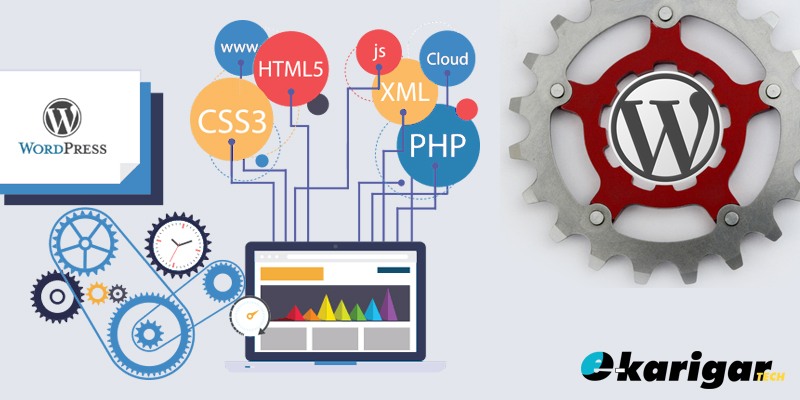 How does WordPress work? This is the most common question that a person may have who is new to website development or to owning a website, Also if they require any basic knowledge on coding. The simple answer to this question is there is no knowledge required on coding. You can develop a website, edit content, delete content, and even create content with WP. However, installing WP on your computer would be required and you need administrator access to the website which you wish to work on. The editing work on the website can be
done from any computer WP is installed on and one which has a stable internet connection.
What is WordPress?
WP or WordPress is an open-source content management system or CMS which is primarily based on MySQL and PHP. It apparently is said to rank among the top CMS in the world which is currently supporting millions of websites from all over the world. Essentially WordPress is commonly or rather fondly called as a factory constantly making websites.
Installation of WP
It does not take any longer than a few minutes to be able to download and install this open-source software on a web server. The installation file is free and is directly available from the WP website for anyone to install it.
Using WP to edit websites 
Once you login into WP as an administrator to your website you would have access to any changes you might want to make on the website. No coding, HTML, PHP, and MySQL knowledge is required to make the necessary changes. You may add pictures, videos or just plain text within minutes of you logging on. The user-friendliness of WordPress is what makes it the most preferred CMS among people all over the world.
Special features of WP
Template system and plugin architecture are said to be some of the salient features of the CMS tool WordPress. It is also said that WP is most commonly associated with blogging. However, other things such as online stores,
traditional mailing lists, media galleries, and forums are also supported by WP which is not common with other CMS tools. Integrated link management is also a feature which WP offers which makes it search engine friendly. There are also mobile applications which are available from which you can operate this simple content management system.
Basic Requirements to operate WP
You would require to have a hosting service from a provider and a domain to start using the platform. This enables you to start creating the website of your choice without any further knowledge apart from basic computing.
There are many companies which support and provide maintenance of the website that you created on WP. If you research with any leading search engine you would be able to get a list of companies which specialize in these things.
From these lists, you can find out which would be the best WordPress Company that exists in your country. You can use these companies to get premium services which can enable you to make better use of WP and the free plugins and required themes for a website.