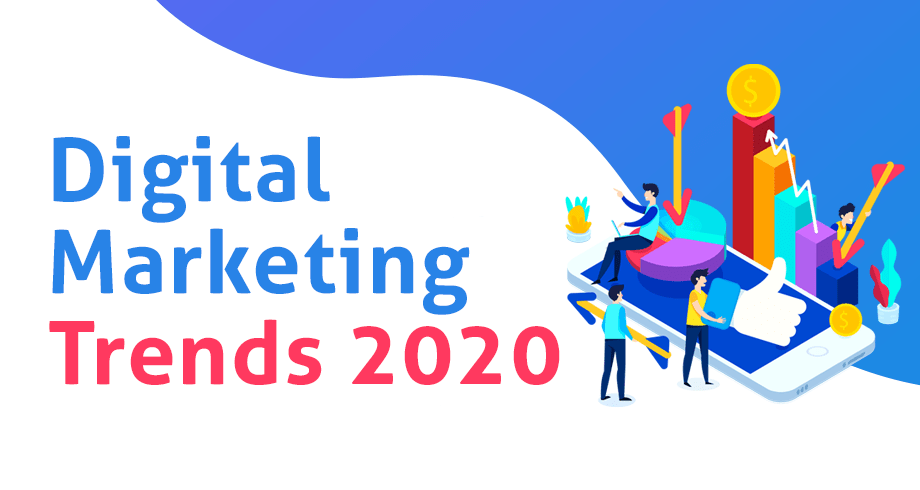 Digital marketing is no longer an option, it's a choice that every marketer should make to flourish the business and set up a brand worldwide. However, there are a few marketers who believe digital marketing is just about bringing the existing business online, simply by building a website. 
Well, it takes time to understand that digital marketing is not just about developing a relevant website. It is all about creating a digital platform for the business. And in today's date building a digital landscape is by taking advantage of every possible digital medium for business growth.
Here in this article, we have spoken about the recent digital marketing trends that are evolving every day with some new scope and hope for the marketers. Check out the trends that every white label digital marketing agency usually offers. 
5 New Digital Marketing Trends That You Must Consider In 2020
Target the ideal social media marketing platform

: Facebook, that used to be one of the powerful social media platforms for marketing, is now losing its ground. The reason behind this is the rise of more trending social media networking zones like Instagram, Snapchat, WhatsApp, and the rising star, TikTok.





For the marketers, where Facebook is getting unsuitable for some marketing campaigns, Instagram and WhatsApp are growing with new hopes and providing new ways to market products. 





How to Adapt?





It doesn't matter whether you are using Facebook for marketing purpose, it is time to use Instagram, WhatsApp, and obviously TikTok for better marketing approach. Create a business page or a business profile and commence your marketing campaign in a more trending way. 

Don't forget about the Chatbots

: Virtual assistants are the real hero of businesses nowadays. Ignoring this results in a great loss. This artificial intelligence software, Chatbots are in the picture since 2018. They are taken into account to interact with the customers, solving their queries, building strong business relationships, and brand credibility.





As per the recent research, it is found that 40% of the customers are more-friendly with the Chatbots and are more likely to interact with them instead of making a direct call.





How to Adapt?




Since Chatbots is one of the fast-growing digital marketing trends in 2020, you must integrate your website with such virtual assistants. Apart from hiring the traditional

digital marketing services in India

, ensure that your website is designed with professional tools and follow the digital marketing norms.

Content is always the king

: Content was then the king of digital marketing and is also highlighted as the same. However, today, marketers emphasize more on the information, target, and context of the content to ensure better marketing leads.





According to the new Google algorithm released in November 2019, well-written content with proper use of language is more prioritized. Such web pages are ranked on the top three of every search engine result.





How to Adapt?




As per the advice of Google, concentrate on writing relevant content with proper information and format, instead of spending time on high-class SEO trends. Adapting this will certainly enhance your brand visibility and improve your online presence.



Focus more on video marketing

: Video marketing is now in high popularity, especially when you are using live video. Facebook, Instagram, and other social media marketing platforms are all integrated with this live video feature, allowing businesses to take the leverage of and use it for brand promotion.





As per the recent survey, around 81% of online users prefer watching live-streaming videos. Even the website traffic with respect to this will be around 80% by this year. Such a highly-engaging marketing trend is worth adapting to influence a wide audience all around.





How to Adapt?




Facebook and Instagram are listed among the most used live-streaming platform for marketers. But what is in trend is TikTok. If young adults or teenagers are your prime target, especially, using TikTok will be a game-changing approach for your business. Creating appealing videos with superb demographics can make your brand popular in a very short time.

Voice search is now the prime feature

: Voice search optimization is another key to your business success. With the introduction of smart devices and technologies, voice search has gained huge popularity.





Compared to the normal web search, 48% of users are using voice search to find their products online. Therefore, ignoring this is not at all a good idea.





How to Adapt?




Are you targeting voice search users? Focusing on voice search optimization by including keywords that are more relevant to voice search should be your prime choice. One thing that you must remember is adopting this trend not just make your business trendy and relevant but even improve your customer experience and help you to build brand loyalty.
Finally,
No matter what business you run and what audience you serve, adapting the recent digital marketing trends can open multiple new doors with multiple new business opportunities for you. 
Hire the best digital marketing services in India and dive your business to the path of success.