5 Step Guide to Choose the Best Web Designing Company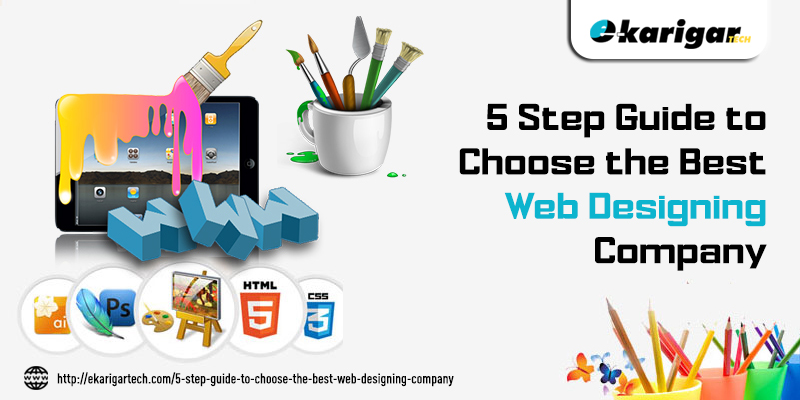 If you are an individual or a company who is looking for web design solutions, you might be wondering how to choose the best web designing company that suits your needs. In this digital era of social media and World Wide Web, it is very important to have online presence of your business. It provides an opportunity for businesses to expand their reach to potential customers and get their businesses to new heights of success.
Choosing the best web design company that meets all the requirements is hard as there are so many companies that provide web design solutions and it gets harder to decide which one to choose. Choosing the right company will ensure that you will get the best out of your budget and something that your clients will like. Even though it gets tricky to choose the experts, following are some of the key factors that can help you make a decision for your business.
1. What is your requirement?
First step is to find out your requirements. People think that they don't need to study their requirements thoroughly as the company providing them solutions will provide them with the exact solution they need. This is not the right approach to it as some misunderstanding can lead you to a solution that is not needed. To avoid such a scenario, one needs to study their requirements thoroughly. It is to be made sure that the required solution is clearly known; requirements are clearly mapped and communicated to the designing company.
2. Know your budget 
Next step is to find out your budget. It plays a vital role in the development of any kind of solution. You need to figure out how much you can pay for the required solution. Even though it might be clear to you that if estimated quote of some great company exceeds your budget, you can't consider working with them. But you can look at it from another perspective. Maybe the company you have chosen is adding some unnecessary things to their cost that you might not need. In this case, you can ask them to take out those things and reevaluate the estimated cost. It is clear that you will get what you pay for. So, it is important for you to allocate the maximum budget for the project if you want to get the best results out of it.
3. Portfolio of the Company
It is important to see the past clients of the company you are going to work with. By examining their portfolio, you would be able to know if they have worked on similar project as yours and how well they managed the client's requirements in those projects. Portfolio will reveal their style of web designing and you will be able to decide whether you need such design style or not.
4. Strategies and Technologies
A good web design company always provides their clients with strategies, plans and details about their technologies that they will be employing to build their solutions. Strategies help in setting certain milestones for the project which help to measure results. For the technologies being employed, it is also to be made sure that they are using the technologies you want for your project. It plays a vital role if you have experts of certain technologies for the support in your team, as you have to make sure solution being built is based on those technologies.
5. Support
Support is also important in order to get the desired results. Look for a company that provides support to clients for a certain time so that if any problem occurs, they can fix it for you. It will make sure that you get the desired functionality out of the system in the allocated budget.
Conclusion
It is clear from the above points that choosing the best web designing company for your needs can be tricky. But if things are known upfront and careful research is carried out by following the above steps, you can make sure that you choose a company that best suits your needs and will develop the solutions your clients will love.