Making the most of mobile
2017 was a landmark year for the mobile web, as its usage finally overtook that of desktop browsing. And that means web designers will be more focused than ever on the mobile audience next year and beyond.
"As we move into 2018, I expect innovations to fully utilize mobile functionality we've never seen on the desktop," says Ekarigar. "2018 will continue to see designers develop clever ways to organize information beautifully and intuitively, leading to more sophisticated user experiences, with focuses on micro-interactions and gestures over icons and buttons.
"Simply put, intuitively navigable sites convert better; Ekarigar has put this into practice extremely well."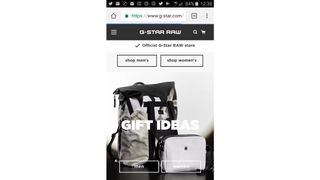 Lopez offers a specific example of how mobile-first is not just an airy principle but something that needs to be baked into the core design process. As we mentioned earlier, animations are now more and more present in web design – "but sometimes, it's too much. There's a danger of overdoing it and relying on motion to define an experience.
"Designers need to consider how mega animations and transitions are going to translate into browsers and devices like mobile, where there's no hover states and content needs to adapt to reduced screen sizes."